If you're here it's you need a website like yesterday, and you have absolutely no money in your budget for a fancy $10K website with all the bells and whistle. Despite what most website designers say, you can absolutely get an inexpensive website for $500 or less. But there is a caveat.
In this episode we're going to be talking about the many things you'll need to watch out for if you're going the cheap website route for your business, including
The level of service you're going to receive
What designer is actually capable of doing for that much money
What you get when you buy a template for that price range
And, all the other things you're missing out on with the $500 website
so before you break out your wallet for that cheap purchase, listen to this first.
Warnings About Getting a Website for $500 or less
Warning 1: Your cheap website will come with very crappy service
In the beginning of my website service business I would offer website design for dirt cheap. I didn't think it was that hard to put together a simple website. It turns out 9 times out of 10, the simple website that the client wanted was something way more involved. In fact most of those $600 projects took me anywhere between 4 to 6 months to complete.
I was super slow because I was only working on those projects at night after work, and because I was juggling other projects at the same time. All this juggling between may day job, project, 1 project 2 and project 3 meant that I had little to no time to just sit down and write an email with a project update. I remember clients used to send me emails all the time wanting a project update and it would take me up to 4 days to send a response back.
This is just a peek behind the scenes of what a real project looks like when the budget is low. The actual project length was tremendously long. This happens because a designer working for cheap will try to make up for the money they are not making by piling on as many projects as possible. As a result, you as the client get the short end of the stick. Your project doesn't get prioritized, and it may take a few days before you hear anything from you designer.
Overall, in a survey of online business owners who went the cheap route, many of them confessed that the customer service was the worst experience. Often discouraging them from wanted to hire another website designer ever again.
So if you're contemplating a cheap website service, be warned that you may experience a lot of frustration with the project timeline, and the designer's communication. In this case, you'll need to lead the project and really push your designer to prioritize your project. You'll need to set a specific deadline, otherwise they are going to take their sweet time doing the work.
Warning 2: Most designers who do it for free or cheap are inexperienced
I'll start this off with a story. I reached a point in my business where I simply just could not do all the work myself. So I went out on the hunt to find an experienced WordPress Developer to help me in my business. Although I really wanted to hire a fellow freelance designer, the asking price was pretty much the entire fee the client was paying me. So I started looking for someone who could help me for cheaper, and stumble across just that. I thought I had struck gold, until I actually started asking my developer to do the work. While she was ready and willing to help, she had limited knowledge on some of the fundamentals, and especially when it came to the more complex elements of building a website. I found myself constantly having to stop what I was doing just so I could train her to properly do it.
Which leads me to this warning: when you hire cheap, you're going to run into people who don't know what they're doing. A task that may take an experienced person 2 days to do, may take a few weeks or even a month for them to figure out. You will also likely need to give them a lot of direction, and supervise them, as they are not going to read your mind. Most inexperienced designers will heavily lean on you to give them instructions and they will not do anything outside of those instructions.
This can be super frustrating if you're hoping you can give someone an idea, and have them completely take over with no assistance. So if you're going the cheap route, you need to be prepared with explicit, detailed, step by step instructions that even a toddler can follow. You also need to be prepared to clear your calendar to do the work too, because you're cheap website designer will be able to assist you but will not take ownership of the project. And remember to be patient, because they will have a lot of questions, and will think some of the requests you have are impossible to complete. You'll need to instruct on how to do the research because they will not take the initiative to do it themselves.
Warning 3: You are limited by what you can get for cheap
I had a client several years ago who needed needed a customized website experience for her brand, but was working on a small budget so she bought an inexpensive $30 WordPress template an was excited to get started, until she hopped into the template and tried to make changes. She worked for almost 2 days with barely an sleep and eventually broke down in tears because the website was nowhere near where she wanted it to be and she desperately needed to get it out there to her audience so that she could make money.
Here's the thing with cheap templates, most of them will say easy to customize, but really are designed to help experienced developers quickly get a website up and running. So for the average person, it can be really frustrating to customize a template on your own without that necessary background knowledge in website basics.
You will also find yourself constrained to the template. Meaning that, if you wanted to add a section, or a page, that had a different format or style, you're out of luck.
You're also going to find assistance from the person who created the template hard to come by. Most template come with generic instructions that may not necessarily answer a question about a specific error you're running into. Compare this to a $600 or $1200 template. This high end templates will like have instruction videos, pictures, step by step instructions, and a chat box that would allow you to ask very specific question.
So if you're going the cheap route, be prepared to pull up your sleeves and spend some time learning how to do some basic website design. You may find that you'll need to invest a few days, learning the platform in order to customize it the way you want, and expect to pay extra money if you need support with an error that pops up.
Warning 4:  You're going to be missing a lot of other things that you didn't even know you needed
As mentioned before, the huge headache that most online business owners have with cheap designers is the lack of communication. Cheap website designer just do not have the time to hop on a call with you let alone send an email regularly. And this could be the one this that helps you to consider saving up more money to get your website done right. Until you're in the thick of it, you don't realize how important it is to speak with a human being and have that person be responsive. This helps your project move so much faster, and prevents it from taking 6 months to get it launched.
Finally…
Warning 5: You'll ending spending more money
Yup, unfortunately I had to learn this the hard way. I had bought a cheap template, that was an absolute disaster to work with. So I spent more money on another template, then another then another. Needless to say, if I had just pooled that money together I could have just hired an experience designer to help me. It's was a hard lesson to learn, but I'm glad I learned it because I get to share it wil you, so that you can be prepared.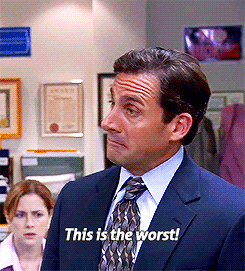 Know that if you go the cheap route, you often spend more money in one way or another to either get someone to help you with support, to maintain the website, or to customize the design. Either way, be prepared to see some money go down the drain.
Summary
Before you pay some $500 or less to build your website, here are a few warnings:
Your cheap website will come with very crappy service because that designer is going to be stretched too thin to provided you with dedicate service
Most designers who do it for free or cheap are inexperienced and therefore are going to over promise what they can do, and under deliver.
You are limited by what you can get for cheap because cheap stuff is not going to be customized to your specific needs
You're going to be missing a lot of other things that you didn't even know you needed such as strategic planning, 1:1 calls, copywriting, branding or even creative direction
You'll ending spending more money mostly because you're not going to be happy with the end product, and try to buy something else that will get you closer